About
N.L. Bates is an author of science fiction, fantasy, and slipstream stories, and is the moderator of the long-running critique group Reading Excuses. When not writing stories, she enjoys biking, dancing, and tabletop RPGs. She also writes and performs music as her alter ego, Natalie Lynn, and filks occasionally, usually by accident.
New Releases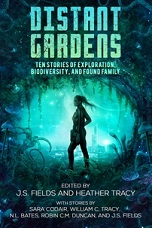 Distant Gardens
Rules were made to be broken.

From terraformed outposts to magical realms, journey to worlds where deadly plants, rampant biodiversity, or failed terraforming have created irresistible opportunities for those brave enough to seize them. New worlds, found family, mystical secrets, and deadly science weave together in this lesbian-centric anthology focusing on a very different kind of first time—a first encounter with a world, or being, entirely unlike our own.
N.L. is a collaborator and contributing author for Distant Gardens, the upcoming anthology featuring a sapphic cast making their way through weird and wild settings. If you like environmentally conscious superhero romance and spaceship crews who steal implausibly large objects, consider picking up a copy!
Distant Gardens is available in paperback, eBook and audio.